English
Reading
Early Reading
Teaching children to read and write independently, as quickly as possible, is one of the core purposes of a primary school. These key skills not only hold the keys to the rest of the curriculum but also have a huge impact on children's self-esteem and future life chances. Reading and writing are both two part processes: readers decode and comprehend, writers create and encode. In one respect, decoding and encoding are the 'mechanical' skills that children need to master in order to be able to comprehend what they read and write creatively. Research has shown that by teaching phonics thoroughly and rigorously to children, we can ensure that they use this knowledge to decode effortlessly and automatically. This means all energy can be focused on understanding and enjoying what is read and on composing and creating fantastic writing (Ofsted: Reading by six).
How we teach early reading
The English spelling code is one of the most complex in the world. It has evolved over hundreds of years and has had many different influences. As a result, our words are made up of combinations of 44 different sounds but many of these sounds are spelt in different ways in different words. Furthermore, we only have 26 letters to write these sounds down. This can lead to real confusion for children as letters combine together in different words to make different sounds. For example, the letter 'a' sometimes makes the sound /a/ (c-a-t), or, with other letters, the sound /ay/ (d-ay) or the sound 'air' (f-air). This can be overwhelming.
In order to help the children conquer this complex code, we teach it to them systematically, using a system based on a programme called Song of Sounds. Song of Sounds is a multi-component, multi-sensory, systematic synthetic phonics programme. It is teacher-led, hands-on and interactive, with a wide variety of games and activities that reinforce learning.
We start by teaching children to read the first 30 sounds (Set 1 Sounds) and to be able to blend these sounds to read words (i.e. to know that the sounds c/a/t can blend together to read the word cat). Once they have conquered this skill, they start reading stories and texts that have words made up of the sounds they know. This means that they can embed and apply their phonic knowledge and start to build their reading fluency. At the same time, we teach them how to write the sounds and use this knowledge to spell words, leading to writing short sentences.
As their confidence and fluency grows, we start to introduce more sounds (Set 2 and then 3) and the children read texts with increasingly more complex sounds and graphemes (different ways of spelling the sounds, e.g. /igh/, /ie/ or /ay/, /ai/). They learn that a sound can be written using 2 or 3 or even 4 letters. We call this a grapheme (e.g. igh represent the /i/ sound in the word night). Equally they learn to use these graphemes to spell words.
In short, the essence of our reading programme is based on the belief that by reading the sounds, you can read the words, and so the story. But, if it is hard to understand what sounds the words are made up of, it is hard to read the words accurately and so it is hard to understand what has been read. Additionally, if it takes too long to work out what the words are, it is difficult to understand the story as the meaning gets 'lost' in the individual words. Fluency and accuracy will be established by Year 1 as they are key to comprehension.
Reading comprehension
Being able to decode a text alone is not enough. Children need to comprehend what they are reading and need to be actively taught key comprehension skills from a very early age. We do this through comprehension activities linked to the stories the children read with Song of Sounds, and also through a range of different literacy activities based around core texts shared with the children in class. We know that good readers question, check and engage with their own understanding – these are some of the skills we seek to develop. We know that decoding and comprehension should not be taught in linear progression but need to be taught simultaneously.
As part of the Song of Sounds programme, the children also have a weekly session called 'big phonics' in addition to the short daily phonic sessions. These sessions are used to embed the sounds taught that week through fun and engaging games and activities. During these sessions, various 'visitors' attend to support their work such as Felicity the Phoneme Fairy, who visits to see if the children can show her what they have learnt so far. Tricky Trevor introduces the children to the 'tricky words' and Bert the Builder visits and, using bricks, teaches the children how to blend sounds together to make words.
Progression in early reading
All children are individuals and learn at different rates. The table below outlines our expectations for an average child, with good attendance. Some children will make more rapid progress and some may need further support.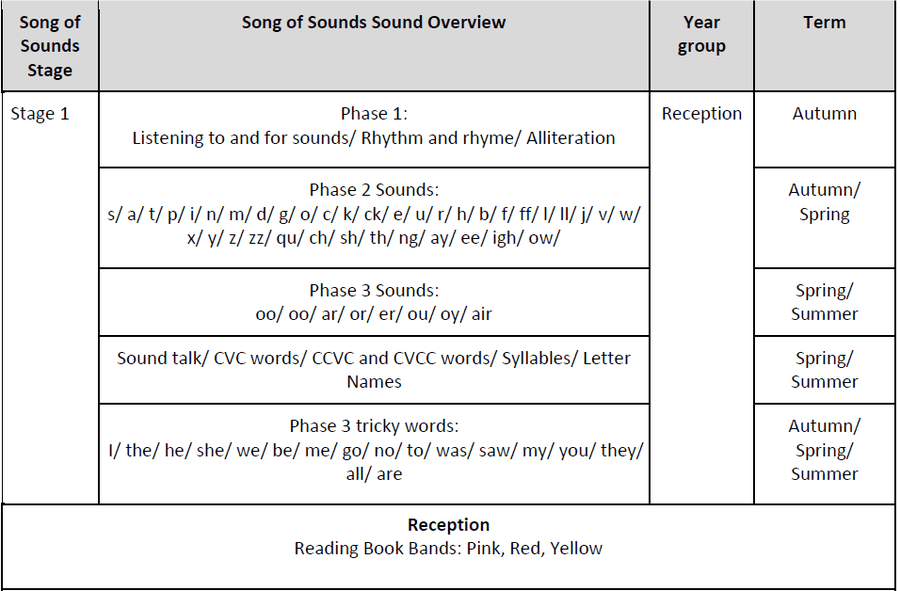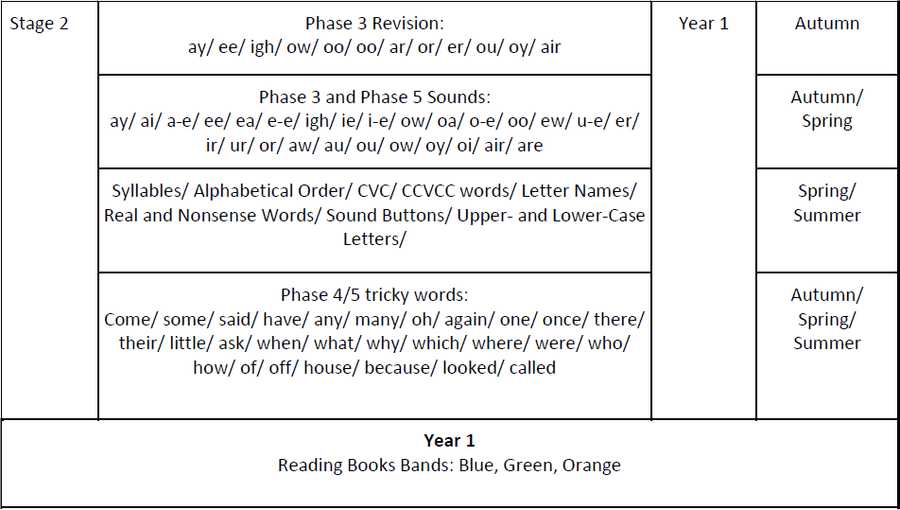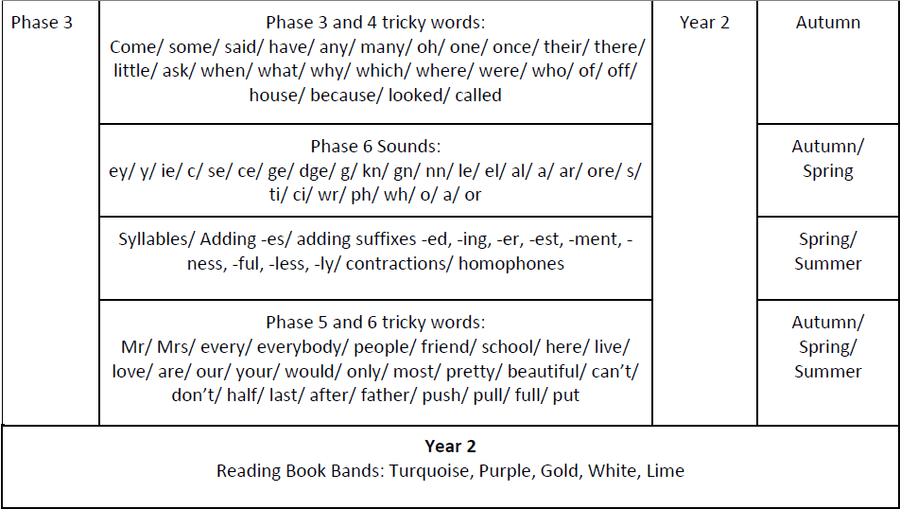 Glossary:
Phoneme - the smallest unit of speech-sounds which make up a word.
Grapheme - the written representation of sounds.
Digraph - two letters that make one sound.
Trigraph - three letters that make one sound.
Tricky word - word which can't be sounded out
cvc word - word made up of a consonant, vowel, consonant (cat, dog)
What happens next?
Once children have learnt to read independently, our teaching and their learning, is directed at developing their comprehension skills and writing. Work is focused on a series of carefully chosen quality core texts which act as the stimulus to teach higher level comprehension, build knowledge and develop a love of reading and literacy.
How we assess learning in reading
Regular diagnostic and formative assessment is a key feature of our phonics programme and helps not only to monitor children's progress but also to identify key areas for revision. Children are diagnostically tested on entering school, and then at specific points throughout the programme (roughly half way between each term). The more formal assessments are carried out on a one-to-one basis by a teacher. The outcomes of these assessments help teachers to plan carefully to meet class needs and identify children who need further support or extension work. Formative assessment takes place in weekly 'big phonics' sessions through small group observations during games and activities. Through using both diagnostic and formative assessment, and having the opportunity to work with every child in a small group every week, the teacher has an accurate understanding of each child's achievements and learning needs.
Year 1 Phonic Screening Check
In England, all Year 1 pupils in state-funded schools must undertake a statutory Phonic Screening Check towards the end of the school year to ensure they are decoding at the appropriate level. Children are asked to decode 40 words under one-to-one test conditions with a teacher. The word list contains a combination of real and 'nonsense' words, the latter being included to ensure that children are using phonic skills to decode words and not recognising words by sight. To pass, the children must usually score at least 32 out of 40. Children who do not pass the Phonic Screening Check in Year 1 are expected to retake the test at the end of Year 2.
Those children who do not achieve the Phonic Screening check in Year 1 will receive additional phonics sessions throughout their time in Year 2. This will take the form of attending the Year 1 phonics session each day to revisit the sounds covered in Stage 2, individual phonics interventions carried out by class teachers or Learning Support Assistants, as well as the usual daily class phonics sessions covering Stage 3 of the Song of Sounds. Individual/ small group phonics interventions will continue to be delivered to those children in Year 3 who did not achieve the Phonics Screening Check in Year 1 and Year 2.
Reading in Key Stage 2
Reading is essential to attainment and success across all subjects. At Gurnard, our ultimate aim is for our children to become confident and independent readers who regularly enjoy being immersed in a range of books, want to read regularly and to discuss their reading. Our school aims to:
Provide all children with the skills and strategies to read with confidence, fluency and understanding.
Provide all children with phonological understanding to read words accurately.
Ensure children make progress in their reading skills including decoding, accuracy, fluency, understanding and response to texts.
Provide all children with a growing technical vocabulary with which to engage in 'Book Talk'.
Inspire an interest in words and what they mean to enable children to develop an increasing oral and written vocabulary.
Establish a love of books where children choose to read for pleasure.
Ensure all children read widely and experience a range of genres in fiction, non-fiction and poetry, understand their purpose and are able to discuss some of the ways in which narratives are constructed.
Develop critical appreciation of what they read.
Develop children's experiences through a variety of texts including use of libraries, computing and other available media.
Teach children to apply the skills they learn in reading across the curriculum.
Encourage care and ownership of books.
How we teach reading in Key Stage 2
The National Curriculum divides the teaching of reading into two areas: Word reading/decoding and Comprehension. At Gurnard we recognise that both these elements are essential to successful reading and we support the acquisition of these skills through various strategies always alongside quality texts. Reading is closely linked to the other aspects of English learning: speaking and listening, writing, grammar and vocabulary.
Skilled word reading involves both the working out of the pronunciation of unfamiliar printed words (decoding) and the recognition of familiar printed words. Underpinning this is the understanding that letters represent sounds and this is why the teaching of phonics, alongside other reading strategies, is important in the teaching of early reading.
Comprehension refers to the understanding of a text. Comprehension skills are drawn from linguistic knowledge e.g. vocabulary, grammar and knowledge of the world. Children develop these skills through exposure to a variety of high quality texts (fiction, non-fiction and poetry) in a range of genres. Discussions centred on texts, in whole class and Guided Reading sessions allow children to develop their comprehension skills. Good comprehension follows on from the development of word recognition and linguistic knowledge (particularly vocabulary and grammar).
Reading is not restricted to Literacy Opportunities are provided for pupils to practise and extend their reading skills in other subjects.
Teaching and Learning Approaches
Reading at Gurnard Primary School is taught in a range of ways. Some of these are generic across the whole school, whilst others are specific to key stages. These may be implemented by the class teacher, by the Learning Support Assistant, or voluntary readers such as parents and governors.
Shared Reading including echo and choral reading.
Guided Reading of the same text, in small groups.
Comprehension activities linked to the literacy theme/topic.
Daily and frequent readers on a one-to-one basis, for those children who need to 'catch-up' with peers.
Regular word level, spellings and phonics work, as a whole class or in small groups for those who need it.
Reading intervention groups (including Nessy).
Reading of texts linked to work in foundation subjects.
Reading for pleasure opportunities.
Story time in which the class teacher or Learning Support Assistant reads to the class.
Celebrations such as World Book Day and the Isle of Wight Literary Festival involving local authors, poets, storytellers and a range of book related activities.
Additional activities to raise the profile of reading.
Whole Class Reading
In whole class reading the teacher models the reading process to the whole class as an expert reader, providing a high level of support. Teaching objectives are pre-planned and sessions are characterised by explicit teaching of specific reading strategies, oral response and high levels of collaboration. The teacher's role is that of the expert reader who models how the text is read. Where appropriate, the pupils join in with the reading of the text. The texts selected are rich, challenging and may be beyond the current reading ability of some members of the class.
Guided Reading
In guided reading, the responsibility for reading shifts to the learner. The teacher structures reading tasks with pupils, who are grouped by ability. Pupils are required to read and respond to the text themselves with the teacher supporting. Texts of graded difficulty may be (but not always) chosen and matched to the reading ability of the group. The texts selected should be ones which enable pupils to read the text with sufficient ease but also provide challenge. It is hoped that every child in the class is heard reading by the class teacher at least once per week through either guided reading or individual reading sessions. During guided reading sessions the teacher and/or the class Learning Support Assistant should provide focussed support to groups, while other children complete a reading or comprehension activity independently. It is intended that guided reading should provide a forum for pupils to demonstrate what they have learned about reading. The focus for the reading is concerned with reinforcing and extending strategies taught during shared reading.
Individual and Paired Reading
Reading for pleasure and enjoyment is given a high priority and time is set aside for children to enjoy a range of texts. Ideally, classes should have a class reader which is read purely for enjoyment. Children are also encouraged to borrow a library book to share at home alongside the school reading scheme books. We aim to encourage children to become independent readers through providing regular opportunities for them to read for pleasure, promoting regular use of the school library as well as ensuring that children read books of an appropriate level of challenge.
Curriculum coverage and progression of skills in reading:
Within each academic year, children will develop and build on their decoding and comprehension skills. In both Key Stage 1 and Key Stage 2, children continually develop reading skills through many areas of the curriculum.
The table below shows the expected progression of skills through the year groups.
How we develop learning in reading in Key Stage 2
In Key Stage 2, children build on the good reading habits and reading fluency established in Key Stage 1. The teaching of reading skills is still addressed through Literacy lessons and discrete guided or whole class reading sessions. Proficient readers are encouraged to extend their experiences and are guided by their class teacher in their book choices. Children who require support to develop their reading skills may use the Rapid Reading intervention programme, alongside small group phonics work and/or phonic based reading scheme books. The principles of the Song of Sounds programme is still endorsed throughout this Key Stage with intervention strategies put in place to support all children in becoming confident and competent readers. By the end of Key Stage 2 we expect all children to be 'free readers' and use the library regularly to make their own independent book selections.
In Years 3 and 4 children read books that are structured in a variety of ways and continue to listen to and discuss a wide range of fiction, poetry, plays and non-fiction. Children identify new vocabulary and check the meaning of words using dictionaries. They recognise different forms of poetry and prepare play scripts and poems to read aloud.
In Years 5 and 6 children continue to read an increasingly wide range of text types and recommend books that they have read to their peers, giving reasons for their choices. Children continue to prepare poems and play scripts to read aloud to an audience and learn a wider range of poetry by heart.
During Key Stage 2, as children's decoding skills become increasingly secure, the teaching of word reading should be directed towards the development of vocabulary.
A variety of strategies are used to teach reading comprehension. Quality, inspirational and, where possible, topic related texts are always used in English lessons (for both shared reading and independent work) and in guided reading sessions. Teaching is directed more towards developing the depth and breadth of children's reading habits; helping to ensure that they become independent, frequent and enthusiastic readers.
Reading should be taught through the development of specific reading skills and the skills being taught should be made explicit to the children. Reading work should be recorded in reading journal books.
Reminders of the specific reading domains are displayed on working walls in both Key Stage 1 and Key Stage 2 classrooms.
How we assess learning in reading
Ongoing formative assessment linked to the National Curriculum objectives is carried out by all teachers when planning for reading in all curriculum areas. Suitable reading targets are also incorporated into individual children's passports, provision maps and intervention programmes where necessary. We record formative assessments digitally using Classtrack using the following domains: Comprehension (Clarify; Monitor and summarise; Respond and explain; and Select and retrieve); Inference; Language for effect; Themes and conventions; and Word reading. These assessments then inform the end of year summative assessments on whether a child is working towards, at or exceeding age-related expectations.
Writing
Writing is a key aspect of the curriculum and, along with reading, speaking and listening, it makes a significant contribution to the development of children as thinkers and learners. It is a central part of the school's role that all pupils develop their writing ability and enjoy the process of cultivating this life-long skill. At Gurnard we strive to provide children with exciting, purposeful and inspiring contexts in which to become writers.
How we teach writing
Writing at Gurnard helps develop pupils' competencies in two key areas: transcription (spelling and handwriting) and composition (articulating ideas and structuring them in speech and writing). Carefully planned, regular writing opportunities also allow the pupils to develop their writing stamina, ensuring all pupils can write at length.
Within each unit of work, pupils are given the opportunity to write an extended piece for a range of real purposes and audiences. The pupils are taught to understand how these purposes and audiences influence the form the writing should take. The pupils are given opportunities to develop their ability to think aloud, explore and collect ideas, draft and re-read their writing as it forms. Pupils are also taught the importance of proof-reading, monitoring and editing their own writing to make sure it makes sense and to improve it.
We recognise that these areas are clearly linked to the other aspects of English learning: speaking and listening, reading, grammar, vocabulary and spelling:
We teach grammar through our writing lessons as well as discrete lessons to ensure it has an impact on writing.
We use high quality texts, modelled and shared writing to demonstrate good practice.
We encourage and promote talking before writing.
We provide time for planning, editing and revising.
We use drama to help pupils engage with the text and to think about another point of view.
We provide stimulating concrete and visual stimulus as anchor tasks to hook the children before they complete a writing task.
At Gurnard, we encourage our pupils to write across the whole curriculum and not just in their English lessons. We believe that by teaching children to write at age appropriate levels they will have the skills to be able to:
Be confident and independent in written language.
Write imaginative, interesting and thoughtful texts.
Write in different contexts and in different styles for different audiences.
Understand and use standard English spelling, punctuation and grammar.
Develop the stamina and skills to write at length.
Organise and present whole texts effectively, sequencing and structuring information, ideas and events.
Construct paragraphs and use cohesion within and between paragraphs.
Use accurate spelling and punctuation.
Vary sentences for clarity, purpose and effect.
Write with grammatical accuracy.
Express themselves creatively and reflect about the content of their work.
Organise thoughts and ideas logically that are appropriate for their intended audience.
Experiment with adventurous, effective and appropriate vocabulary.
Apply their understanding of phonics and spelling rules to all forms of writing.
Writing is taught in a range of ways:
Modelled Writing. The teacher talks aloud the thought processes as a writer. They model strategies in front of the children, communicating the strategies being used. Teachers may model writing skills such as punctuation, rehearsal, proof reading, editing, word selection, sentence construction and paragraphing.
Shared Writing. This is a collaborative approach in which the pupils contribute their ideas and thoughts for the teacher to write. The teacher models and teaches specific writing skills and there is the opportunity for discussion to choose the most effective or suitable ideas.
Guided Writing. Pupils are grouped by writing ability. The teacher or Learning Support Assistant works with the group on a carefully selected task appropriate to that group's needs and targets. This will focus on a particular aspect of the writing process rather than writing a complete piece.
Independent Writing. Children are given opportunities to apply their understanding of the text type in their own writing. They are encouraged to plan, draft, write, edit and assess their work, applying the skills they have learnt throughout the unit of work on that particular genre.
As children progress throughout the school, they are given many opportunities to write independently and to apply the skills they have learnt and practised in shared and guided writing. Wherever possible, writing is made meaningful by being planned for a specific purpose or in response to a particular experience.
Curriculum coverage and progression of skills in writing
Within each academic year, children will develop and build on their writing skills. The table below shows the progression of writing skills that are currently taught in each year group. The relevant grammar skills are taught in conjunction with the writing skills.
How we plan learning for writing
Writing at Gurnard is based on the use of text drivers. Each year group has carefully chosen quality core texts (including fiction, non-fiction, films and images) which act as the stimulus to teach pupils to speak and write fluently so that they can communicate their ideas and emotions to others and, through their reading and listening, others can communicate with them. Having engaging and challenging core texts allows pupils to develop a love for literature and read for enjoyment. We hope to ensure that pupils develop the skills of language which are essential, not only in order to access the rest of the curriculum, but also to participate fully as a member of society and ultimately impact on their future life chances.
Foundation Stage and Year 1
We want children to enjoy writing from an early age. Our ultimate intention is to enable children to independently and effectively communicate in writing for a wide range of audiences. Writing down ideas fluently depends on effective transcription: that is, spelling quickly and accurately through knowing the relationship between sounds and letters (phonics) and understanding the morphology (word structure) and orthography (spelling structure) of words.
This understanding begins in the Foundation Stage through daily, high quality phonics lessons. In the Foundation Stage, children are encouraged to attempt their own emergent writing and their efforts are valued and celebrated. As their phonic knowledge increases, so does their ability to write independently. At the same time, their knowledge of key words is supported through reading and writing activities, including shared reading and writing. Legible letter formation is explicitly taught and modelled on a daily basis.
A wide variety of opportunities are provided for children to engage in writing activities and independently apply their phonic skills through role play, creative activities, computing and the outdoor area.
Good speaking and listening skills are crucial to the development of writing. Drama and role play opportunities are provided prior to writing when teaching rhyme, poetry or narrative. Teachers also plan for talking opportunities through drama, talk partners and group discussion to enable children to verbally rehearse their ideas before writing. In the Foundation Stage and Year 1, we adopt Pie Corbett's Talk for Writing approach to the teaching of narrative and non-fiction writing, through which children learn to internalise text structures and widen both their spoken and written vocabulary. This understanding is then used as the basis for their own writing innovations.
Years 2 to 6
Writing in years 2-6 is based on a text-driven approach. Units are planned around a quality text, including fiction, non-fiction, film or poetry. A learning journey is planned wherever possible using a 'hook' to capture the interest of the children and introduce the unit. Each unit of work also has a particular writing outcome, ideally with an audience and purpose, to give meaning to children's writing.
Our curriculum enables Key Stage 2 children to have the opportunity to explore high-quality texts in depth, enhancing reading comprehension and providing meaningful contexts and purposes for writing. The teaching of this programme is flexible and class teachers are then, in turn, able to apply their own creativity to cover the objectives across Key Stage 2. The selection of a text driver is at the discretion of individual year group teams, taking into account specific cohort needs. The guidance of selected texts is supported by the Literacy Leads to ensure children have exposure to a proportionate balance of text types across the year. Teachers plan a learning journey having decided which particular genres are suited to the text driver. Key grammar and punctuation areas are then attributed to this journey that are perceived to be 'well-matched' or a feature of this genre. Nevertheless, there may be times when it is more appropriate for these skills to be delivered discretely. Teachers clearly model writing skills and document the learning journey through consistent use of working walls.
Throughout each unit, the links between reading and writing are made explicit – we read as writers and we write as readers. The progress throughout each unit of work shows the transition between reading as writers (focusing on aspects such as structure, characterisation and language features) to writing as readers (focusing on aspects such as word play, describing, composition, planning, editing and revising). Throughout the learning journey we plan opportunities for children to develop apprentice pieces and to carry out self and peer-assessment.
Coverage of Focused Writing Genres
In order to ensure sufficient coverage of different writing genres and to avoid repetition between year groups, teachers at Gurnard follow the guidance below with regards to the focused writing genres:
Assessment in writing
Ongoing formative assessment of the National Curriculum objectives is carried out by all teachers in planning for writing lessons. This process occurs through daily interactions with learners, marking and pupil conferencing. We assess digitally using Classtrack which is broken down into the following domains: Transcription, Handwriting, Composition (Composition and effect; Text structure and organisation; Sentence structure) and Vocabulary, grammar and punctuation. End of genre pieces are usually marked and assessed using writing checklists for each year group. These provide a detailed breakdown of the attainment areas to achieve age related expectations.
Various forms of writing moderation are carried out in order to ensure consistency with writing. During the year, each year group will carry out moderation with Literacy leads and whole school moderation at staff meetings. To further refine assessment skills, Gurnard participates in shared termly moderation with a group of other schools to confirm our judgements and share effective practice. The Literacy leads hold an exemplification file containing samples of writing for each year group at age related and greater depth at various points during the year.
The school also subscribes to a digital service, using a Comparative Judgement approach for writing in Years 1 to 6. Comparative Judgement is an assessment technique which involves comparing a series of two pieces of work side-by-side to establish a measurement scale. Each year group has the opportunity during the year to complete independent writing linked to a pre-determined stimulus, which is then uploaded for anonymous internal and external assessment. With traditional moderation, most scripts are never seen by anyone other than the class teacher. With this approach, every script is seen twenty times. Judging provides whole-school and nationally benchmarked data as well as individual standardised scores that can be monitored over time to measure progress.
English - Spelling
How we teach spelling
At Gurnard, we encourage our pupils to think and write creatively, be adventurous with their use of language and to write with clear purpose and for pleasure. In order for these aims to be realised, it is essential that our pupils learn to spell accurately. Children who can spell feel more confident and are able to write with a greater ease. We want our pupils to be equipped with a range of strategies for learning spelling and to be able to apply their strategies when spelling words in their independent writing. We hope to encourage children to enjoy exploring and investigating the patterns and contradictions of the English language. Our pupils are regularly given opportunities to explore and investigate the English language and its spelling patterns. Our pupils learn to handwrite fluently and apply their spelling, grammar and punctuation skills to a variety of purposes in a range of contexts. When spelling, our aim is for our pupils to:
use their phonic skills effectively when blending phonemes for reading and when segmenting phonemes for spelling
have an interest in words, their meanings and their origins, developing a growing vocabulary both for speaking and writing
write with confidence and creativity, while developing the skills to self-edit, correct and improve
be imaginative, creative and challenge themselves.
Curriculum coverage and progression of skills in spelling
Within each academic year, children will develop and build on their spelling skills. In both Key Stage 1 and Key Stage 2, children are taught spelling explicitly through discrete phonics and spelling lessons. In Key Stage 1 phonics is delivered through a 15 minute daily session with a longer session once a week. In Key Stage 2 spelling is taught over three or four 15-20 minutes lessons per week. The table below shows the progression of spelling skills that are currently delivered in each year group.
How we plan learning for spelling
Foundation Stage and Key Stage 1
In the Foundation Stage and Key Stage 1 our pupils follow a high-quality, systematic programme of phonics teaching following the Song of Sounds teaching programme (Stages 1-3). Our phonics teaching makes strong links between blending for reading, segmenting for spelling and handwriting. We encourage all of our pupils to apply their phonic knowledge when spelling.
By the end of Year 1, it is our expectation that the vast majority of our pupils will be secure at stage 2 of Song of Sounds and at spelling the Year 1 common exception words. We would also expect that the majority of children will pass the Phonics Screening Check by the end of Year 1. Pupils who do not pass the phonics screening at the end of Year 1 are given additional support and intervention including revisiting previous phonics stages if required and re-take the Phonic Screening Check within Year 2.
In Foundation Stage and Key Stage 1 pupils participate in daily phonics/spelling sessions.
Key Stage 2
From Year 3 onwards, pupils are taught age-related spelling content using a published scheme 'No Nonsense Spelling'. This scheme of work provides is aligned to the 2014 National Curriculum, has a clear progression through blocks of teaching units across the year and supports our teachers with the teaching of spelling. This resource offers teachers a guideline of the skills to be taught in each year. However, teachers are free to organise the order of these skills based on their assessment and analysis of need.
In KS2, pupils participate in three/four discrete spelling sessions per week.
Pupils are also given daily spelling practice opportunities during registration, through the use of 'spelling zappers' practising and testing the common exception and statutory word lists. Pupils in Key Stage 2 also complete 'wallow on a word" exercises during the week, bringing together the specific teaching of vocabulary alongside spelling.
A typical learning sequence is as follows:
Revise - Activate prior knowledge; Revisit previous linked learning
Teach - Introduce the new concept; Explain; Investigate; Model
Practise - Individual/group work; Extend/explore the concept independently; Investigate; Generalise
Apply/Assess - Assess through independent application; Explain and demonstrate understanding
Strategies for learning spellings
Children learn to spell explicitly in discrete spelling lessons. Our focus on teaching spelling embraces the knowledge of spelling conventions, patterns and rules. Moreover, we promote the learning of spellings, through the use of multi-sensory strategies, including combining the teaching of spelling and handwriting. Our teaching of spelling includes etymology, consolidation practise of high frequency words, dictionary work, the study of spelling patterns and the statutory words set out for each year group in the national curriculum for English.
Our pupils use a Spelling Journal which provides the opportunity for pupils to record their learning, practise spelling words and refer back to previous spellings.
Children are actively encouraged and taught to proof read their writing for spelling errors.
The following strategies are introduced incrementally through the 'No Nonsense Spelling' programme and can be used to support pupils' spelling across school and at home.
Look, say, cover, write, check
Trace, copy and replicate (then check)
Segmentation strategy
Quickwrite
Drawing around the word to show the shape
Drawing an image around the word
Words without vowels
Pyramid words
Rainbow writing
Memorable 'silly sentences'
Clapping and counting syllables
Dictionaries - pupils are taught explicitly how to use dictionaries and thesauruses in order to investigate word meaning, origins and spellings.
We teach our pupils a range of strategies to use when spelling words independently. These strategies include use of: segmentation (using phonic knowledge); 'Have-a-go'; personal spelling journals; and dictionaries .
Teachers place a strong focus on spelling in all marking and feedback. During the marking of written work, up to three misspellings of high frequency words are identified. When returning to look at feedback, our pupils are asked to practise each correct spelling three times. Class teachers ensure that common misspellings from a prior year group are revisited and learned with utmost urgency when misconceptions are identified.
Assessment
At Gurnard, assessment is mainly in context. For example: spellings in an unseen, dictated sentence; spellings in independent writing; and evidence in spelling journals. Ongoing formative assessment of the National Curriculum objectives is carried out by all teachers in planning for spelling lessons. Suitable spelling targets are also incorporated into individual children's passports, provision maps and intervention programmes where necessary. In addition, we use termly tests to support our teacher assessments in Grammar, Punctuation and Spelling. Our assessments enable us to quickly identify individuals or groups of pupils who are falling below age related expectations. Steps are immediately identified to improve the attainment and progress of these pupils. Current intervention programmes include precision teaching, Nessy and Rapid Phonics.
Home learning
In the Foundation Stage, the Passport of Sounds is sent home each week containing the new phonics sounds for the week for the children to practise at home.
In Year 1 home learning is delivered through the use of weekly spelling lists containing between 3-5 words for each child. The expectation is that these words are practised at least three times per week. A weekly spelling test takes place once per week.
From Years 2-6, home learning is delivered through the use of Spelling Shed, an interactive spelling programme. Spelling words are set weekly by the class teacher which fit with the spelling rule being taught in class. The use of Spelling Shed allows class teachers to identify any misconceptions and mistakes which are being made by children. These are then addressed in discrete spelling lessons.
English – Speaking and Listening
How we teach speaking and listening
At Gurnard, we believe that good speaking and listening skills are pivotal to learning. From the first days in school, speaking and listening form a large part in a child's progress in all curriculum areas and we aim to develop such skills in a wide variety of ways. Our aim is to create fluent and confident communicators. Spoken language underpins the development of reading and writing. The quality and variety of language that pupils hear and speak are vital for developing their vocabulary and grammar and for their understanding for reading and writing. Teachers should therefore ensure the continual development of pupils' confidence and competence in spoken language and listening skills.
Curriculum coverage and progression of skills in speaking and listening
Within each academic year, children will develop and build on their speaking and listening skills. In both Key Stage 1 and Key Stage 2, children are taught speaking and listening through all over areas of the curriculum. The table below shows the progression of skills that are currently delivered.
How we plan learning in speaking and listening
In the Foundation Stage, we incorporate the Development Matters statements and the Early Learning Goals into our planning and teaching, which ensures that our pupils:
Use language to imagine and recreate roles and experiences
Develop active listening and response
Interact with others in both indoor and outdoor play
Use language to 'get things done'.
In Key Stage 1 we build on pupils' prior learning in speaking and listening by:
Encouraging pupils to speak according to the context, with consideration for their audience
Providing the time for pupils to orally rehearse their ideas prior to writing
Providing opportunities for children to read aloud different text types and their own work to an audience.
Developing pupils' ability to use language imaginatively
Providing opportunities for children to express their ideas and feelings through drama activities, discussions about books and debates.
Teaching pupils to work effectively and collaboratively in groups and with their talk partners.
Expecting pupils to join in with discussions and make relevant contributions
Teaching pupils to listen carefully and actively
Encouraging children to experiment with new and interesting vocabulary they discover.
In Key Stage 2, we build on pupils' attainment and speaking and listening experiences at Key Stage 1 by:
Developing pupils' ability to speak in a range of contexts with increasing sense of audience and purpose
Teaching children to understand and apply the conventions for discussion and debate.
Providing opportunities for children to adopt, create and sustain a range of roles, responding appropriately to others in role.
Providing opportunities to improvise, devise and script drama for one another and a range of audiences, as well as to rehearse, refine, share and respond thoughtfully to drama and theatre performances.
Providing opportunities for children to prepare their own written work to perform in front of an audience
Continuing to encourage children to experiment and apply new vocabulary that they discover.
How we assess learning in speaking and listening
Ongoing formative assessment of the National Curriculum objectives is carried out by all teachers to plan for speaking and listening opportunities in all curriculum areas. Speaking and listening skills are summatively assessed for all pupils at the end of each academic year. Suitable speaking and listening targets are also incorporated into individual children's passports, provision maps and intervention programmes where necessary.